Does anyone remember Anna Kournikova? Well, of course, yes, how can it be otherwise? Although those who are not yet twenty may not remember. Well, nothing terrible: now we will refresh your memory. Do not be surprised by our desire to do this, you will understand everything when you see the photos.
Simply Anna Kournikova – one of the 10 most attractive tennis players of all time .
There are a lot of wonderful tennis players. Immediately remember the Argentine beauty Gabriella Sabatini and the Russian Maria Sharapova. But none of them even came close to the title of the most attractive sportswoman who ever played tennis.
Anna was born on June 7, 1981, and at the age of five her father gave her the first tennis racket. She trained a couple of times a week, because her parents wanted her daughter to do something active. When it became clear that Anna has abilities, she was sent to a professional academy. She was seven years old.
After moving to Florida at the age of 14, she debuted in professional tennis, having appeared in the Fed Cup for Russia, and became the youngest player ever to compete and win the competition. In 1995 she began to play professionally and the following year she took part in the Grand Slam tournament for the first time – in the 1996 US Open, losing in the fourth round to Stefi Graf, who eventually became the winner of the tournament. Anna was at that time only 15, but then the audience noticed how beautiful she was, and a legend about Anna Kournikova was born.
Unfortunately, her career in professional tennis ended in 2003, at an adult age of 21, due to chronic problems with the lower back and a herniated disc, but this did not affect her popularity, and she continued to be an athlete, whose requests most often appeared on the Internet during 2008. She is still often in public, continues her modeling career, appears on television and participates in other events.
Let's now look at 15 photos of the one who is known as the most attractive tennis player ever to go to court, and still remains one of the top models of the world. It is worth noting that Anna is included in the rating of the 12 sexiest Russian models of all time .
15. THE MAGAZINE "SPORTS ILLUSTRATED"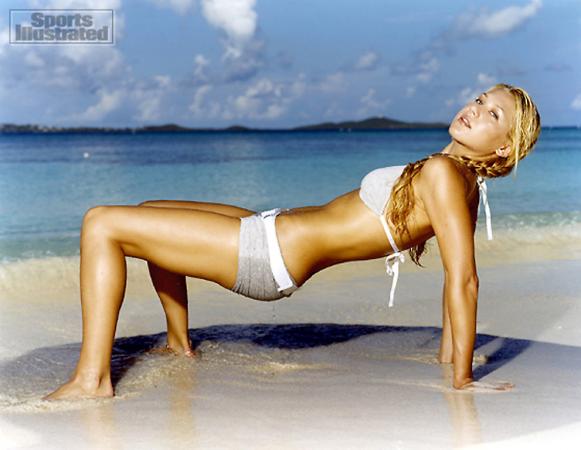 If you are on the cover of " Sports Illustrated " – consider, you have succeeded. Usually there are models on the cover, not athletes, but Anna is a rare case, combining both, so it's fair that she became a cover girl in 2004.
In fact, Anna's photos have been on the covers of almost every popular magazine you can remember, including publications for women. To get on the cover of " Sports Illustrated " means that you are either at the very top of success, or just on the way to achieving it. For Anna, it was just a normal shot.
14. SEXY AND GENEROUS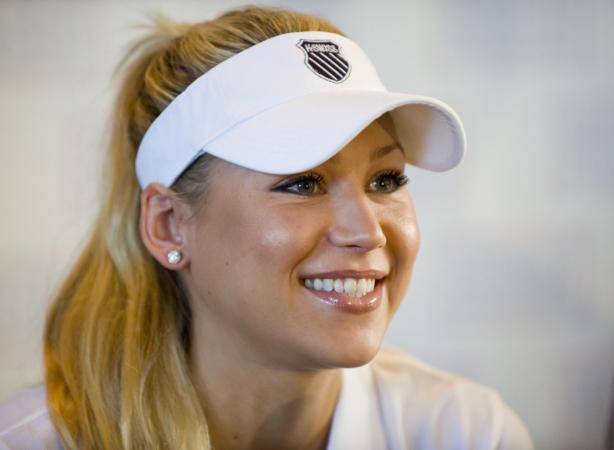 Despite the fact that Anna stopped playing professionally in 2003, she continues to participate in many show matches and charity events. Tennis will always remain her first love, and she often argues that if it were not for health problems, she would again return to the competition. Of course, today her best years in tennis are over, but she is happy to use any chance to go to court, especially if there is a good reason for this.
Since leaving professional sports, Anna has participated in countless charitable events, often with other celebrities such as Elton John, John McEnroe, Serena Williams and many others. It helps both the Indian Ocean Tsunami Relief Foundation and the Children's Hospitals, and the AIDS Foundation. She even participates in charity races and triathlons. Anna is still active, in good shape and very attractive.
13. GOOD IN SPORTS BRA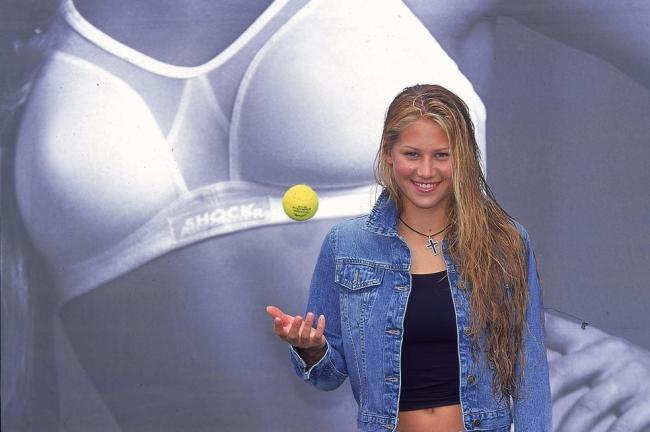 Australian company Berlei specializes in the production of women's underwear. And who would be better off than Anna Kournikova to come up with to represent their sports bras?
The company's website has a lot of photos of Anna in the sports and casual clothes of their production. There are so many cool photos there that you do not know which one is the best. You can watch them for hours and literally not notice how much time has passed – like in a casino at a gaming table, when you forget that it's time to leave. It's great that Anna does not leave us and we can view photos at least the whole day.
12. BEAUTY IN ALL WHITE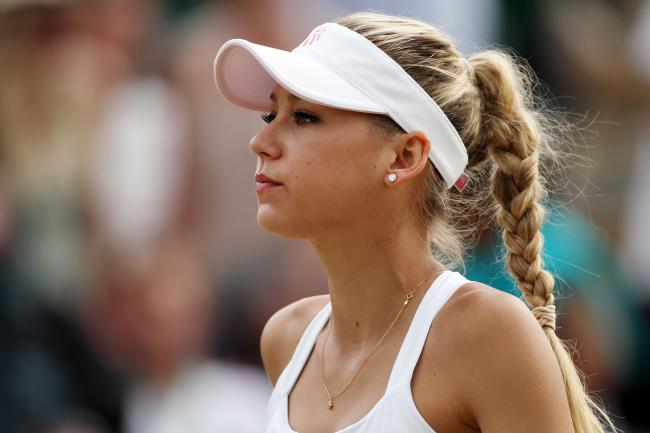 Although Anna did not win the WTA tournaments in a single event, she was very close to this in 1997 in Wimbledon, at the most prestigious tennis competition in the world. Wikipedia says that Kournikova became the second woman in the Open Tennis Age, which, debuting in the Wimbledon tournament, immediately reached the semifinals. She still remains the youngest athlete (she was 15) ever coming out in the semifinals of this tournament. Kournikova lost to future champion Martina Hingis, who several years later became her partner in a doubles game.
For? who are as good as Kournikova, the victories or defeats do not matter much, at least from our point of view. Despite the young age of Anna, even then the entire planet – from teenagers to serious companies – knew that it was special. At the age of 15, she could already turn her head, and it's not just about the hopes she put in tennis.
11. BEAUTY JEZEBEL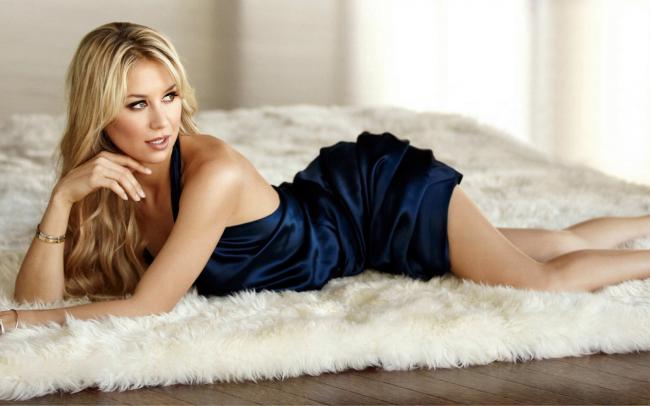 We tried to find so many wonderful photos for which Anna posed, as much as possible. Another super sexy shooting was done for the popular female magazine, blog and website known as Jezebel . It does not matter whether you heard about him or not; it matters only how stunningly looks Kournikova in the pictures.
It was very difficult to choose any one photo, but we did our best, and it is highly recommended that you look for others not only for Jezebel, but also for other magazines and Internet resources mentioned in our article. You will have a good time. It's hard to believe that there are those who have never heard of Anna Kournikova, because her photo is almost everywhere.
10. HOT STUFF IN THE SKIN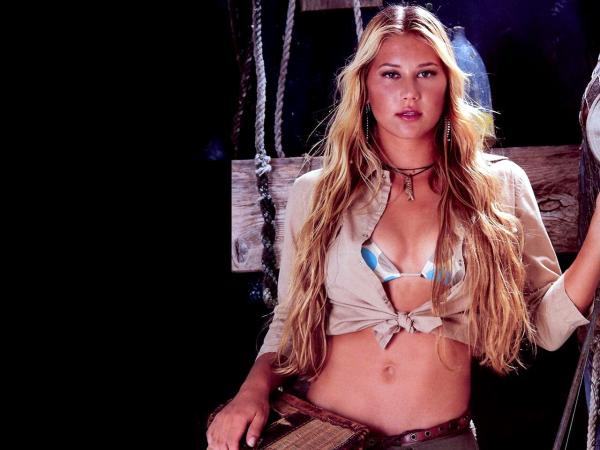 Studio Celebrity Leather Fashions is known for photographing under the motto " sexy celebrities wear leather ". In 2013, Anna participated in their photo shoot and in these pictures she actually looks like a hot little thing.
We are used to pictures of Kournikova in swimsuits, in the fact that they traditionally wear models (whatever it is called) and in sports clothes, as in those pictures where she plays tennis. But this time Anna appears before us in a completely different light.
In these photos on a tennis star, a mixture of leather and cowboy-style clothes. The result is incredibly appealing. The man who suggested Anna this survey and created for her the image of a girl from a ranch from the center of Kansas – you are our applause. The photos were better than imagined. Great job , Leather Fashions .
9. PARISIAN PLEASURES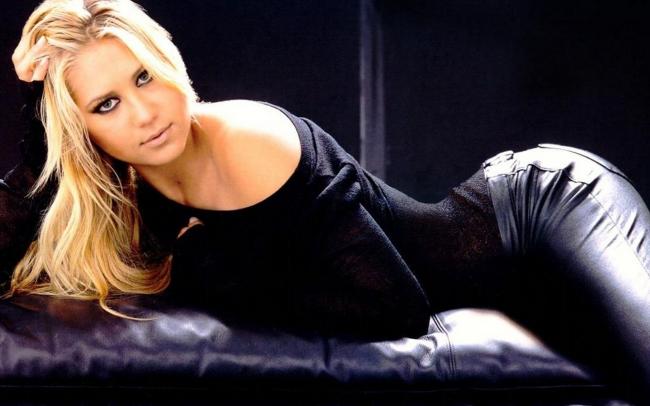 As already mentioned, Anna did not win Grand Slam singles tournaments, or even WTA tournaments, but, as Wikipedia said, in 1998, at the Open Championship in France, she showed the best results, reaching the fourth round before losing to Jana Novotna. At the same time, she first went to the Grand Slam semi-final in doubles with Neiland, losing to Lindsey Davenport and Natasha Zvereva.
Kournikova always attracted attention, which is not surprising, especially in the city – the center of fashion and the modeling industry. The results of the game were secondary to the audience, who was more important to see the world-famous star. The public loved Anna and followed her everywhere. No matter, victory or defeat – there was always a crowd nearby who wanted to see the games live.
8. GORGEOUS IN A SWIMSUIT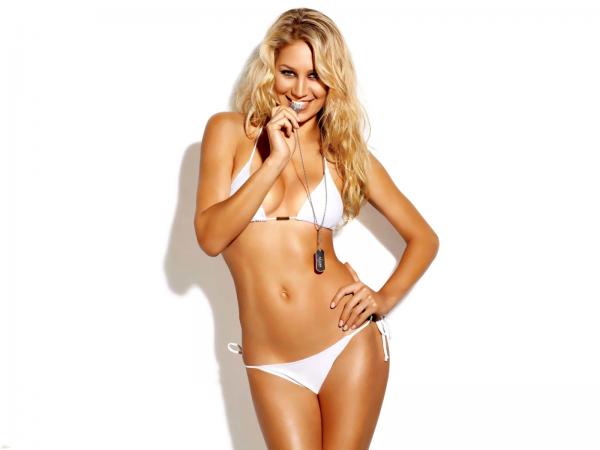 If you think that Anna's photos – models and tennis players – are amazingly hot, then her pictures in a swimsuit will just knock you off your feet. Kournikova participated in endless photo shoots, filming in a bikini and demonstrating a fantastic figure in full growth.
There are many photos where she is on vacation, often on her favorite beach, or walking around Miami, where she now lives. In her biography from the IMDb site she says: " I like the menu in an expensive restaurant: you can look at me, but you can not afford me ." Valuable information for those who try to approach her with a proposal to invite her to drink. Probably, the bottle of the most expensive champagne still does not fit, but, at least, it's a chance to meet with her personally. Already luck.
7. ANNA CONQUERS NEW YORK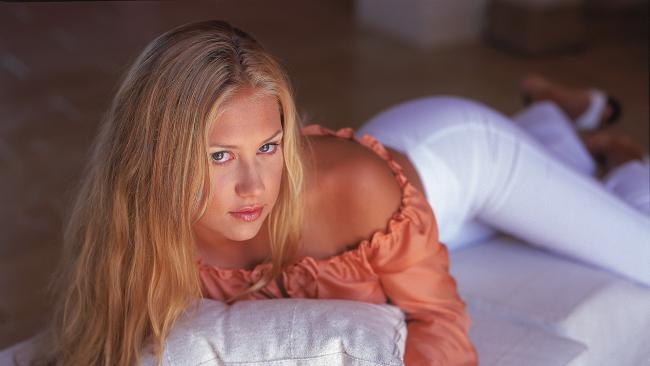 In the United States, as, indeed, everywhere, Anna became the center of worship for fans. The Paparazzi watched every move in the Big Apple . As in Paris, in this big city Anna was in the spotlight – and shone even more than on the tennis court. But is this important?
Wikipedia says that at the 1998 Open in the US Kournikova reached the fourth round before conceding to Arante Sanchez Vicario. A successful year gave her the opportunity to enter the final tournament of the WTA in 1998, but she lost to Monica Seles in the first round. However, along with Seles in Tokyo, Anna won her first WTA tournament in doubles, defeating Mary Jo Fernandez and Arantu Sanchez Vicario in the final.
6. THE REALITY SHOW STAR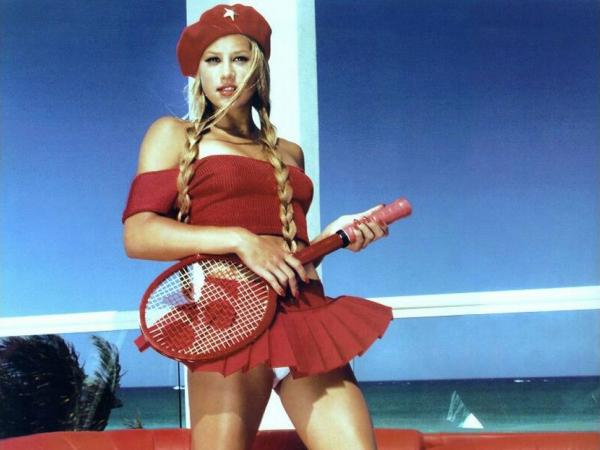 In October 2010, Kurnikova made her debut in the reality show " The biggest loser or the person who lost weight the most ", where she helped the participants to lose weight while playing tennis. In May 2011, she rejoined the show as a permanent celebrity coach for the twelfth season. But in the 13 season Anna did not participate anymore: many thought that for this show it does not fit.
Of course, it's hard to be a beginner, especially without experience in a reality show. But can you introduce : Anna is your personal trainer? One of its presence would be enough for many people to move and lose a few pounds. It must have been a lot of people who wanted to participate in the show that season.
5. PERSONAL LIFE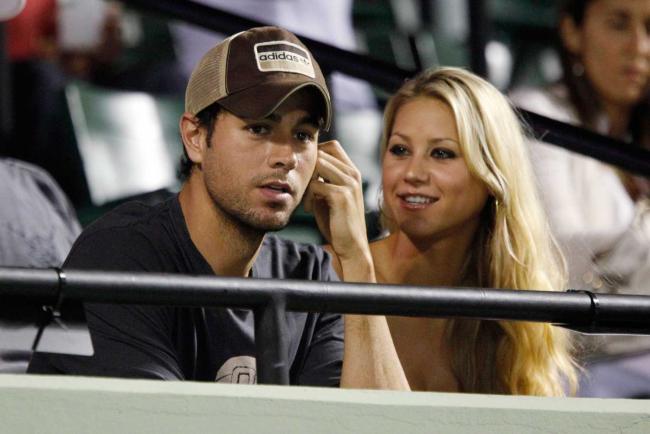 For those who are still hoping to engage with the former tennis sensation, we regret to report that the chances of winning her heart are almost zero. After the novels with NHL stars Sergei Fedorov and Pavel Bure, the supermodel decided to leave her dreams of romantic love with her compatriot and drew attention to the popular Latin American singer Enrique Iglesias.
The pair began dating in 2001, after Anna appeared in one of Enrique's clips, and they are still together. And on the Internet there are many rumors about their official status. Anna is quite secretive when it comes to personal life. It seems that this is the only thing that embarrasses her. Wikipedia claims that Kournikova constantly refuses to confirm or deny the status of her personal relationship. In June 2008, the Daily Star quoted Iglesias's words that they had married in the previous year and subsequently parted. The pair invested $ 20 million in building a house on a private island in Miami.
4. THE MAGAZINE "ESQUIRE"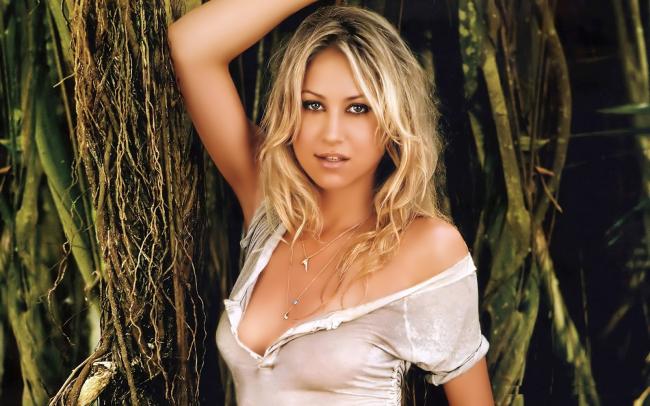 Anna first starred in Esquire magazine in July 2000, when she became a cover girl on a fantastically hot shot. Kournikova possessed an innate talent, beauty and, from her youth, the knowledge of how to behave in front of the camera. In the end, she herself said: " I'm beautiful, famous and smart ." Yes, Anna, we agree.
" Esquire " became another leading magazine that Anna added to the long list of those she worked with as a model – in the prime of life, when much more ahead and other big magazines dream of working with her. In truth, even now at 35 she looks no older than twenty with a little.
3. FINALLY THE CHAMPION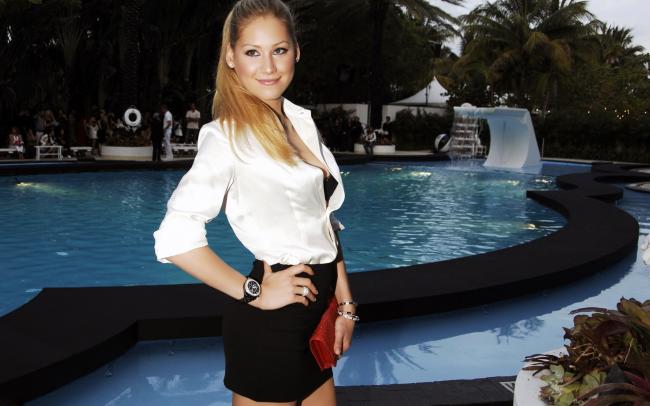 Well, Anna never became a champion in a single event. But still she can boast that she was a leading player when she became the eighth racket of the world in 2000. Being in the top ten is already an achievement for any professional player, but the greatest success came to Kournikova in a doubles game.
Anna became a two-time champion in the Grand Slam tournament, both times at the Open competitions in Australia paired with Martin Hingis from 1999 and 2002. Kournikova was a very successful professional paired player and won 16 doubles competitions, including the already mentioned tournaments in Australia, became a finalist in the mixed doubles at the US Open and at the Wimbledon tournament, and was ranked first in the WTA standings.
2. BABY FOR MAXIM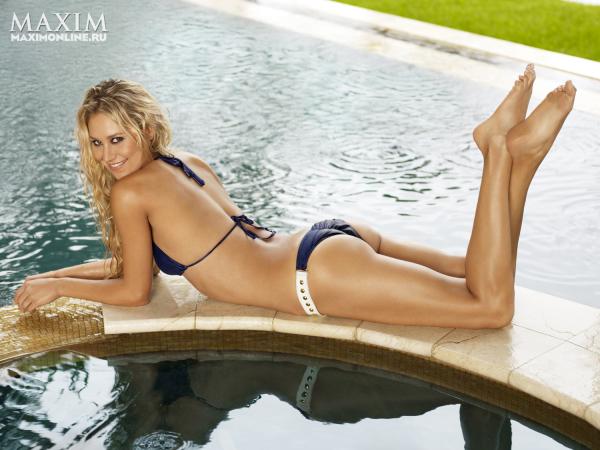 Like the whole world, Maxim magazine loves Anna Kournikova. In fact, they are so admired by her that they placed her on the 29th line of her " hot hundred " in 2005. And on the IMDb website it says that in 2011 it became the nineteenth in the " Maxim " rating " hot hundreds of women ".
Of course, Anna got used to such attention and honors. Magazine « the People » even called it one of the fifty most beautiful people in the world in 1998, and it became the title of one of the many in her brilliant career model, which is not going to end.
Photoshoots and covers with Anna, made for " Maxim ", have become legendary. You can easily find them: on the Internet they are everywhere.
1. THE JOURNAL FHM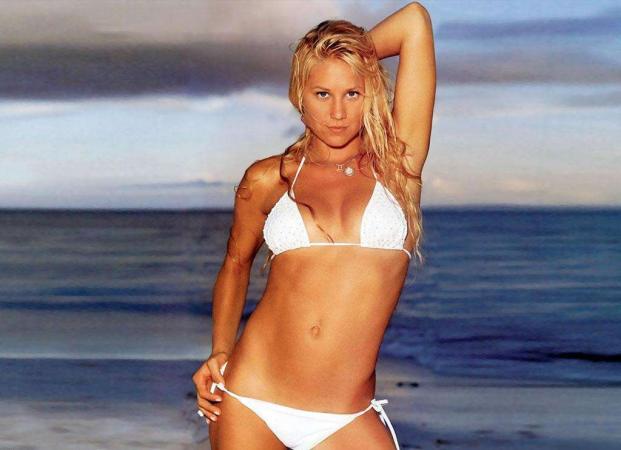 As for the awards, Anna is not just a favorite of "FHM", she is a legend. The Russian sensation has an impressive list of awards from just this one magazine.
In May 2002 she was named "the sexiest woman in the world" in the American, Australian and British versions of "FHM". She was recognized as "the sexiest woman in the world among the 100 sexiest girls in the pool of the American version of FHM in 2002". In the 2004 vote, she became number 9 in the top 100 sexiest women "FHM". She was also awarded 62nd place in the "Hundred of the sexiest women in the world in 2005" by the version of "FHM".
Anna and "FHM" are connected by long-standing partnerships, and as a good wine , Anna becomes only better with age. So, fortunately, we will admire it for a long time.